Finance People Who Speak Easy.
At Acquired Financial Services, you're treated as much more than a number. Continue reading below to learn a little more about us and our mission.
Our business operations are built upon respect, trust, value and report. These core values serve as our compass, and not only set us apart from others, but also ignite our passion for our work. We require every team member to embrace these four values, and we also seek clients who uphold these principles. 
We began Acquired Financial Services over 7 Years ago where we still reside in Melbournes' South Eastern Suburbs. Our ideology from day one has always been the same – "We're Customer Obsessed!". This still rings true even after having completed millions of dollars worth of customer finance approvals across Australia.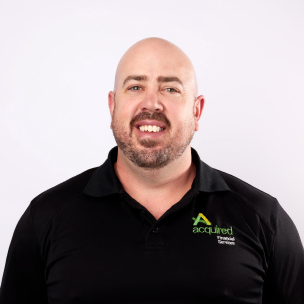 Michael has a passion for helping people. His mission; make finance simple and easy for everyone. With Michael, the customer comes first. Michael founded Acquired Financial Services over 7 years ago and has helped over 10,000 Australians achieve their dreams of purchasing various assets.
Travis has been a finance broker for 15+ years working with various car dealerships and experience in all types of consumer and commercial loans. Travis heads up our broker team to ensure they are always up to date with the ever changing industry.
Finance Broker - Online Team
Stefanie is one of our online Finance Brokers who strives in customer relations and prioritising the clients wants and needs. If you're currently working with Stefanie and need to ask her a question, contact her today!
Brooke is our Business Support Officer who assists with the settlement process of loans. Brooke is the magic behind the scenes that gets your loan settled!
Can't decide how much you need? Leave it to us and we can help
Michael and team were fantastic in regard to helping me with my finance. The whole process was made quick, simple & extremely informative. Michael made you feel like a priority & I am thrilled with the outcome, thank you! I will definitely be back in the future.
Josh was great got me a great deal was very professional kept me up to date throughout the whole process much appreciated
We had Nathan looking after us for finance and we cannot recommend him highly enough. Nathan went above and beyond with what turned out to be a long haul situation. His patience, knowledge and constant communication was exemplary. Thank you Nathan
I was dealing with Alex and the service was nothing short of amazing. Fabulous communication, fast and easy process! Highly recommend and would happily deal with this company again in the future.
Alex was fantastic! Very knowledgeable and friendly and made the whole process of purchasing a car easy! I'll definitely be back for future vehicle purchases!
Highly recommend going with Courtney Brkin
Barry was amazing Absolutely amazing great experience. very professional and had all the time in the world for me and all my questions, Really smooth transaction highly recommend these guys ??
Michael was very professional and patient with my needs would definitely recommend for future clients.
Josh helped me secure a personal loan that best fit my interest, absolutely amazing service, professional standards and guaranteed good deals, couldn't recommend a better broker ??